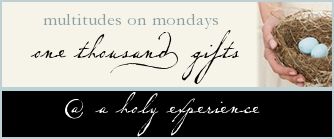 It has not been a week where gratitude was the easy choice. It has been a week where complaining, whining,
early bedtimes
, daily naps, snotty tissues, headaches, and half filled medicine syringes have abound. I can say through it all I am thankful that Sam and I have continued to
email our daily list
of thanks to one another.
November 7, 2011
I am thankful:
3118. that God has revealed my selfishness to me through my son
3119. that there is a purpose for all things
Sam is thankful:
90. for grace and blessings from God
91. for old design standards sitting on his network that give answers to needed questions
92. to be able to quickly answer questions about concrete loads for his dad
November 8, 2011
I am thankful:
3120. for my husband
3121. for the hard work he does, the way he puts his family above others, and the way he is always processing how to be a "better" person in his roles
Sam is thankful:
93. for my photo hobby, as it documents and leaves memories for our son
94. for my cheesy tradition building, as it seals in our hearts and the heart of our son the importance of unity of family, of holy days, and of celebration
November 9, 2011
I am thankful:
3122. for long time friends and family members who go out of their way to help and love us
Sam is thankful:
95. for project completion
November 10, 2011
I am thankful:
3123. for the systems our government has put in place that make our lives more enjoyable (ie. parks, libraries, bike trails, Heritage Village, etc.)
Sam is thankful:
96. for God's provision
97. for a fun lunch with his dad and brother
98. for UK basketball getting going
November 11, 2011
I am thankful:
3124. for an enjoyable conversation with my sister in law
Sam is thankful:
99. for all of the freedoms we enjoy that we did not fight for, and for those who came before who obtained and preserved them
November 12, 2011
I am thankful:
3125. for warm sunshine
Sam is thankful:
100. for nice fall weather
November 13, 2011
I am thankful:
3126. for church volunteers
Sam is thankful:
101. for the fact that even when things are tough, things are still not bad