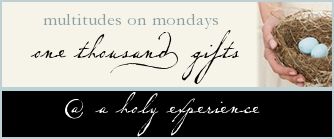 I am thankful:
July 4, 2011
2659. for the freedom experienced as an American citizen
2660. for those who knew God, sought God, and respected God's authority while setting the foundational principle's of our country
2661. for little arms wrapped around my leg
2662. for sitting and sifting through sand with my family
2663. for the Shah's hosting and cooking us a July 4th dinner
2664. for B and Anlon sitting on my lap
2665. for dad's playing with the boys
2666. for the joy children bring
July 5, 2011
2667. for Bradford and Bennett's chatter in the back seat
2668. for a front row seat to the B and B dance (to Take Me Out to the Ballgame)
2669. for B giving Anlon kisses and pushing him through the house while riding Thomas the Train
B pushing A on the Train from Amber cullum on Vimeo.
July 6, 2011
2670. for a room full of children singing and dancing at the library
2671. for the librarian that takes time to joyfully lead the children
2672. for the kiddie pool in our back yard leading to outdoor fun
2673. for jars filled with veggies my granny canned
July 7, 2011
2674. that Sandy arrived early allowing me to leave for work a little earlier
2675. for LAUGHter with co-workers
2676. for compliments
2677. for available stairs when elevators don't work
2678. that I am able to walk up and down the stairs
2679. for the joy of reuniting with B at the end of a work day
2680. for an evening learning more about Nate's passions
2681. for fun shared by Sam and Nate
July 8, 2011
2682. for B's cuteness dressed like a cow for Chick-fil-A's Cow Appreciation Day
You can vote for him HERE!!!!
And you can vote for us HERE!!
2683. for ladies to eat lunch with
2684. that B can play at Grandma and Grandpa's house independently
July 10, 2011
2685. for a breezy morning bike ride
2686. that I was able to do some housework, start laundry, and take a shower before B woke up
2687. for conviction
2688. for fun activities (relating to photography) to participate in
July 11, 2011
2689. that the Boney's were volunteering in B's class, so he was more peaceful
2690. that I gave Indian food another chance several months ago (and now I can't get enough of it)
2691. for a peaceful, delicious lunch with my family