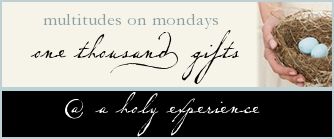 I am thankful:
1872. for a wonderful nights sleep
1873. for some good news from my sister that I hope materializes
1874. for the two puppets I found for Bennett today
1875. for working on completing our photo wall (found
HERE
)
1876. for time to sit and blog while icing my foot this evening
1877. for sweet potato fries
1878. for Sam taking out the trash
1879. for a little warm hand on the side of my cheek
1880. for watching B learn to get on his knees and stand by himself
1881. to enjoy a Starbuck's coffee with Sam and Bennett (while Derek Jeter enjoyed one behind us)
1882. that I was able to get my "canvas" blog post done during B's nap
1883. for a Tuesday evening relaxing with my family
1884. for welcoming smiles during our first BSF of the New Year
1885. for Sandy's thoughtfulness while shopping today. She bought me a skirt.
1887. to watch the awe/intrigue on the faces of children as we sang songs with hand motions
1888. for the Shah's having us over for dinner
1889. to feel the comfort of conversation with a good friend whom you trust and enjoy
1890. for Sam rubbing my legs and encouraging me when I'm discouraged
1891. for how much easier it is to run errands with Bennett now that he is older
1892. to be a part of a life that is daily developing before my eyes
1893. for our friendly waitress at Outback
1894. for my in-laws taking the time to come have dinner with us in Tampa
1895. for conversation with friends about current and future challenges of parenting
1896. for the hymn, "There's Just Something About That Name"
1897. for the bright sunshine
1898. for my sister's good news regarding work
1899. for spending time in God's Word
1900. for repetition that helps my son learn
1901. that B has become attached to "Goldie" (a plastic fish). It is a nice, small toy that easily soothes him.
1902. to see and spend time with the Ross's tonight
1903. for McKenzie's excitement to show me the kitchen she got for Christmas
1904. for playing new games with good friends
1905. for the slower pace of life that occurs when I step inside Grande Court Assisted Living Facility
1906. for a magnificent view of Tampa Bay while working with a patient
1907. for the opportunity to sit among years of wisdom
1908. for the unexpected dinner and visit with the Neiderer's and the Shah's
1909. for the power of testimony
1910. for a new perspective that softened my heart
1911. for honest, raw conversation
1912. for tears of heartache and awe of faithfulness
1913. for the differences between men and women
1914. to have seen and chatted with Heather and Casey at church
1915. for the gospel message that is always changing lives
1916. for a restful afternoon
1917. for the time and opportunity to photograph my family
**All of the photos are SOOC (straight out of camera). I learned so much with

Ashley

and

Jill

last week during Shoot and Edit that I am linking up again.
1918. for the many moments of little B's LAUGHter feeling the air