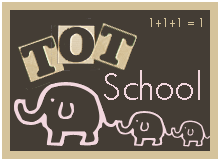 B is 41 months.





I am back to planning/preparing

tot trays

for Bennett. It can be very time consuming, but I have learned that he thrives when he has structured one on one time with me. When I get lazy with it, he gets lazy and will simply follow me around all day asking questions never touching one of his toys, books, or puzzles.




Our "Tot School" may only last 30 minutes, but we typically do it during Z's morning nap (8:30 or 9 a.m.) which allows us to play on the floor without interruption.




Currently, I using white bins I purchased at The Dollar Tree. I am preparing 4 bins on Sunday evening leaving them as is throughout the week or switching 1-2 up every few days. If I am being honest, it has been a little discouraging that he has not revisited the bins throughout the week unless I ask him to do so.




Here are my general bin considerations:
Exploring Bin (aka. Sensory Bin)- Contains a textured material that encourages learning through stimulation of the senses, particularly the sense of touch.
Alphabet Bin- Currently, we are going through the Alphabet making a letter craft from Totally Tots, Now I Know My ABC's , so the bin includes the materials needed for our craft, Eric Carle's Letter Flash Card, Dry Erase Letter Tracing Card (we found ours for $1 at Target), a book that goes along with the letter, and any other printables or letter activities we may be doing.
Manipulatives Bin- Contains various objects that encourage "in-hand manipulation" and other fine motor skills along with cognitive thinking (example: puzzles, lacing, wooden blocks, marbles, etc.)
Free Bin- The 4th bin can be anything I want it to be. It may pertain to counting, sorting, colors, a new game, characters he is enjoying, balls, a fun gross motor skill, books, etc. It may expose a skill or simply be fun.
*

Many of the links are affiliate links, so I will get a percentage if you choose to order something through one of our links, but at no expense to you. We personally own (or have read from the library) everything I have included in this post.
With that said, I am linking up with
1+1+1=1 Tot School
. If I had one blog I would recommend for children's activities this would be the one.
After seeing a photo 1+1+1=1 posting on Instagram I decided to purchase a bag of aquarium rocks to add to our sensory bin. I bought a 10 pound bag and am now wishing I would have purchased the 25 pound bag. I may be purchasing another one soon. I hid sea creatures under the rock and included a paper towel roll, an empty Crystal Light container, a plastic spoon, and a few other small containers. He enjoyed finding the sea creatures and pouring the rocks from one bin to another.
Later in the week, I switched the bin to water beads with Grow Magic Capsule Safari Animals which I found at The Dollar Tree. He LOVED these!!! He had never seen them before and was completely mesmerized by them. I also included a few spoons and a mini muffin pan.
This one was a lion.
Our next bin included lacing cards and plastic matching animals. B still does not enjoying lacing. He looks at them for a few minutes and is done.
Our last bin included this alphabet puzzle that I found at The Dollar Tree. B really enjoys puzzles, particularly ones he has never worked before and includes letters or numbers.
I am hoping our return to Tot School will be beneficial for both B and myself. It has been a rough summer. Who am I kidding? It has been a rough year.
If you want to learn more about Tot School go
HERE
!