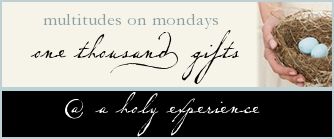 I am thankful:
September 19, 2011
2926. for speaking boldly, even if not perfectly
2927. for a lovely morning visit from Kindra and Anlon
2928. that B woke up looking for daddy
2929. to be able to meet Sam for lunch
2930. the joy the "N" box brought to B (he really enjoyed the Necktie and Necklace)
2931. for experiencing renewed joy today
September 20, 2011
2932. that despite the fatigue I was able to push through 3.6 miles with minimal walking breaks
2933. that I know how to stretch and strengthen the muscles in my body
2934. for how comfortable B is around his cousins
2935. for an opportunity to spend the morning with Michelle and the boys at the zoo
2936. for the way I feel when B is lying on my chest preparing for bed
September 21, 2011
2937. that B did not cry when I dropped him off at B.S.F.
2938. that despite a crazy day--my family is safe, healthy, and full of love
2939. that after years of inviting women to B.S.F.....this year they have come
September 22, 2011
2940. for watching Anlon and B eat raisins
2941. for children playing
2942. that yesterday's frustrations are todays LAUGH's
2943. for a glass of wine shared with friends during dinner
2944. that the Holy Spirit unites the hearts of believers at the perfect time
September 23, 2011
2945. that my granny B is celebrating her first birthday in Heaven
2946. for fear of the quiet that led to the precious site of my boy playing with his old bottles/nipples and play-doh, egg crate, and various balls by himself
2947. for a text from Kindra this morning that led to thanksgiving and praise of our Father
2948. a peaceful morning at home
2949. that despite frustration, love abounds
September 24, 2011
2950. that last night I asked Sam if he wanted to run this morning. Otherwise, I would have never followed through with my request had it been spoken in my mind alone.
2951. for some free time to spend with Chrissy and friend's at Sophie's
2952. that despite feeling down and out today, I am looking forward to a visit from my sister next week
September 25, 2011
2953. that B did not cry when we dropped him off in the nursery this morning. He waved while saying, "Byeeee."
2954. for a relaxing, rainy afternoon
2955. that Sam and I took time to begin our FPU forms