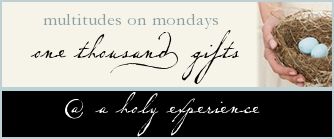 I am thankful:
2045. for every moment I get to comfort my sick baby
2046. for little hands stretching my shirt collar
2047. for baby slobber on my shirt
2048. for the smell of baby skin
2050. for playing choo choo with Bennett
2051. for all the ladies who let me use their photos for the Live Video Montage
2053. for my family of 3 playing/giggling on the couch
2054. for Bennett's clinginess
2055. for the video covering the
first chapter
of
One Thousand Gifts
**
2056. for the reminder that God will give me the strength I need
2057. for the times God softens my heart while rocking my boy
2058. that B woke up just in time for us to make it to B.S.F.
2059. for the growth that occurs while listening to God's faithfulness in the lives of others
2060. for a little diapered butt laying on his back, in the grass, looking up at the sky
2061. for dinner out with Cheryl and Kindra at the Cheesecake Factory
2062. for Sam caring for Bennett
2063. that God led me to open Beth Moore's
Praying God's Word
on a day where I am desperate for it
2064. for my husband's prayers
2065. for 3 little boys drawing and playing (aka. eating) with chalk
2066. for time at my in-laws that gives B a chance to play and enjoy a different environment with family
2067. to keep practicing thanks, even when I don't "feel" thankful
2068. for watching B play and discover new objects to explore
2069. for lunch with Sam at India Grill
2070. that B's appetite has returned
2071. for weather that warrants long sleeves and pants
2072. for my time in God's Word this morning
2073. for children running around playing with such freedom
2074. for a little one looking up at me signing "more"
2076. for a thoughtful note from my husband and B
2077. for our video monitor, which allows me to see and LAUGH at B's funny sleeping positions
2078. for parents trusting nursery volunteers to care for their children, as they go to listen to God's Word
2079. for sitting in the floor playing with children
2080. for a new car seat!!!!!!
2081. for photographing the Boney family
2082. for the friendship God allowed us to develop with the Ross's over the last year (we will miss you!!!)
**Be sure to check back this week, as Chrissy and I will be announcing our plans to read and discuss Ann's book,
One Thousand Gifts