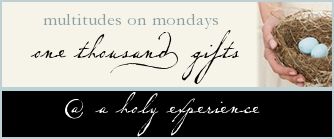 I am thankful:
January 3, 2011
1840. that I don't feel so tired
1841. for weather that allows Sam and I to run with Bennett in the stroller
1842. that Bennett is beginning to mimic our play
1843. that B now anticipates and gets excited over things that occur in our daily routine
1844. for fellow bloggers who inspire me to keep working to improve my hobbies, as long as I am passionate about them
January 4, 2011
1845. to catch up with friends
1846. for re-stocking on groceries after being out of town
1847. for a rich discussion during our last Truth Project video
1848. for unexpected conversation with Natasha
January 5, 2011
1849. for the peace that prayer brings when I am overwhelmed
1850. for my husband's prayers
1851. for homemade vegetable soup
1852. for a gorgeous day to be outside
1853. for Stacie Schultz on her birthday
January 6, 2011
Today has just been a blah day. I am not feeling well and, overall, am stressed and grumpy. Today, I am thankful (1854) God loves me even when I'm feeling and acting grumpy.
January 7, 2011
1855. to have time to run errands
1856. that B took a good afternoon nap
1857. for Isaac's help in the car while driving to Orlando
1858. for a safe arrival and packet pick up in Orlando
1859. for boys having fun playing in the whirlpool
January 8, 2011
1860. for completing the Disney half marathon with Michelle
1861. for Sam's support and help during training
1862. for my in-laws watching Bennett during the race
1863. for all of the spectators who took time to cheer us on
1864. that Sandy spent the day with us at Universal Studios
1865. that Kindra, Vipul, and Anlon came to meet us
1866. for time to lay and relax
January 9, 2011
1867. for R.I.C.E. (Rest, Ice, Compression, and Elevation) for my hurting foot
1868. to have gotten all of the Christmas decorations put away
1869. for Sam helping me hang pictures
1870. for an enjoyable, quiet lunch with my family
1871. for a protein shake made by my husband