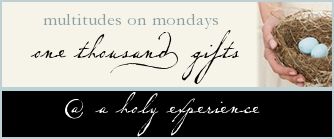 I am thankful:
1702. for over the counter cold meds
1703. for how much joy the videos of Bennett bring to my mom
1704. for familiar faces and hellos in the grocery store
1705. for sincere compliments
1706. for the anticipation of seeing my family for Christmas
1707. for Sam making me dinner even though he was fasting
1708. for the show Sing Off (I initially wrote good, clean entertainment, but the show proved me wrong last week)
1709. that God gave me the strength I needed to manage today despite being sick
1710. for quick-tasty dinners
1711. that I was able to rest when Sam got home from work
1712. that its time for SLEEP!
1713. continually for the wonderful ministry of Bible Study Fellowship (Check HERE to see if it is in your area)
1714. that Sam was able to come home at lunch so I could go to the doctor
1715. for getting more Christmas gifts delivered and wrapped
1716. for conversation about the Lord's work in our lives during B.S.F. fellowship
1717. for Sam's story about Bennett LAUGHing in the tub tonight
1718. for Suzanne on her birthday
1719. for all the babies growing inside the bellies of so many friends (Suzanne, Christi, Kristen, etc.)
1720. for each precious moment I shared with Bennett today. Sometimes, I wish I could freeze time or etch a memory in mind so clearly that I would never forget even the smallest detail.
1721. for how Anlon enjoys watching Bennett
1722. for the most beautiful day here in Florida
1723. to visit with Grandma Temple, Bruce, and Angie
1724. for my mother-in-law who takes the time to cook for us every Thursday, because she enjoys having the family together
1725. that all of our Christmas gifts have arrived (now we just have to get everything packed)
1726. that Jesus is my cornerstone
1727. for the opportunity to get to know Sam's extended family a little more
1728. for the smell of fresh cut Christmas trees, as we walked past the church Christmas tree sale
1729. for the beautiful poinsettias planted throughout our area
1730. for another beautiful, enjoyable Florida day
1732. for another long run completed
1733. for a cool, overcast day
1734. for the expressions on a child's face as they open a gift
1735. for a wonderful, relaxed Cullum Christmas celebration
1736. for Isaac and Eli's imagination
1737. for knowing deep in my heart that less is more
1738. that little B can be calmed by the embrace of his mom and dad
1739. for the genuineness of my friend Natasha
1740. for Noah on his 2nd birthday
1741. that Sam and Vipul got to go to the Bucs game
1742. for a quiet, relaxed evening at home