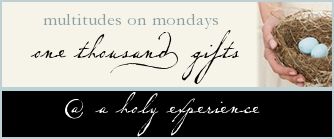 I am thankful:
December 12, 2011
3187. for being outdoors in December
3188. for the vibrant color of flowers
3189. to receive a thoughtful gift from my cousin Allison
3190. for remembering Christmas morning as a child
3191. for a lovely women's dinner at church with friends
3192. for the freedom that is Christ
December 13, 2011
3193. for librarians
3194. for family that lives nearby
3195. for sitting on the front porch enjoying the breeze/fresh air and the quiet
3196. for direct access to the Father through prayer
3197. for music and how it speaks to so many areas of my life
December 14, 2011
3198. to be content staying home from B.S.F. with my sick boy
3199. for increased cuddles and down time when B is sick
3200. for enjoying a lunchtime stroll with Sam to/from one of our favorite restaurants (Moxie's)
3201. for the kind gentlemen who gave B a cookie
3202. for the way God uses people in my life to encourage change
December 15, 2011
3203. for Sam working hard and long, but still being available and kind to us at home
3204. that we were able to switch family dinner to tonight
December 16, 2011
3205. to hear my son singing
3206. that my boy was able to rest longer after waking up quickly from his nap
3207. for the huge Christmas tree and train circling below at Steve's dads house. It was so relaxing and a joy for the children (and me)
3208. for all of the home adorned with Christmas lights
3209. to be able to attend a joyful/relaxing Christmas party tonight with friends
December 17, 2011
3210. that Sam doesn't have to work this weekend
3211. for B's increased interest in climbing, sliding, and playing at the playground
3212. for B sitting on Grandma's lap smiling while she ate
3213. for a fun date night with Sam filled with lots of LAUGHter, food, and entertainment
December 18, 2011
3214. for the time and thoughtful B's Sunday school teacher put into the hand/foot print angel ornament
3215. for a joyful morning
3216. to visit with Sam's Grandma and the thoughtful gifts she brought us
3217. to spend time with the Ross's and Shah's this evening
This picture cracks me up.
3218. for the voices of children playing