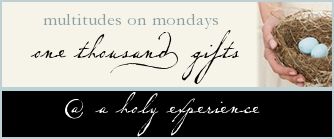 I am thankful:
September 12, 2011
2921. for the way you can get lost in a good book (currently reading The Help)
2922. that Sam and Nate are in a B.S.F. group together
2923. for conversation with my dad
September 13, 2011
2924. for an hour of reading a great book in bed
2925. for gooey brownies
2926. for B's sweet wave and "Hi" while viewing the animals at the zoo
2927. to see the look of amazement on B's face as he watched the chimp's
2928. for how much he enjoyed petting the goats, riding the train, and watching the birds
2929. for Kindra asking about my life
September 14, 2011
2930. for a new year in
B.S.F.
2931. for the truths and applications God will teach me through this year's study of Acts
2932. to be enjoying a TV series with Sam--Parenthood
September 15, 2011
2933. for diaper rash ointment
2934. that B enjoyed playing in and around his kiddie pool for over an hour today
2935. that my son wants to cuddle in my lap
September 16, 2011
2936. for a morning spent with Carloina, Jack, Bethany and Roman
2937. for lying down to rest
2938. for Sam's text telling me he would eat left overs for dinner, so I didn't need to cook
2939. for the opportunity to have family photos taken
September 17, 2011
2940. that Sam and his brother were able to find and fix the problem with my in-laws air conditioner
2941. to watch B explore new thing at MOSI
2942. for B's long nap giving me time to clean and relax
September 18, 2011
2943. for Dave Ramsey's sense of humor which makes FPU fun!!
2944. for an afternoon at the zoo with my family
2945. for the way B has began to enjoy and love on his daddy